Welcome once again to our Best Canadian Seed Banks Review Series! Read the complete review to get answers to all your questions related to Quebec Cannabis Seeds. Well, I am sure you are looking for the best seed banks in Canada who are selling high-quality marijuana seeds or you must be searching for the most honest Quebec Cannabis seed Bank review.
All right! You are at the right place! Stay with us…
Undeniably growing marijuana is complete fun if you have high-quality seeds. Conversely, it turns out as the worst nightmare if you don't have quality cannabis seeds.
After all, quality matters the most…
Exactly what matters the most is the place where you are getting your seeds that is your seed bank. Hence, we are here with the most demanding review of the most reputable seed bank of Canada- Quebec cannabis Seeds seed bank or QCS.
Let's commence our review…
---
Quebec Cannabis Seeds: Everything you want to know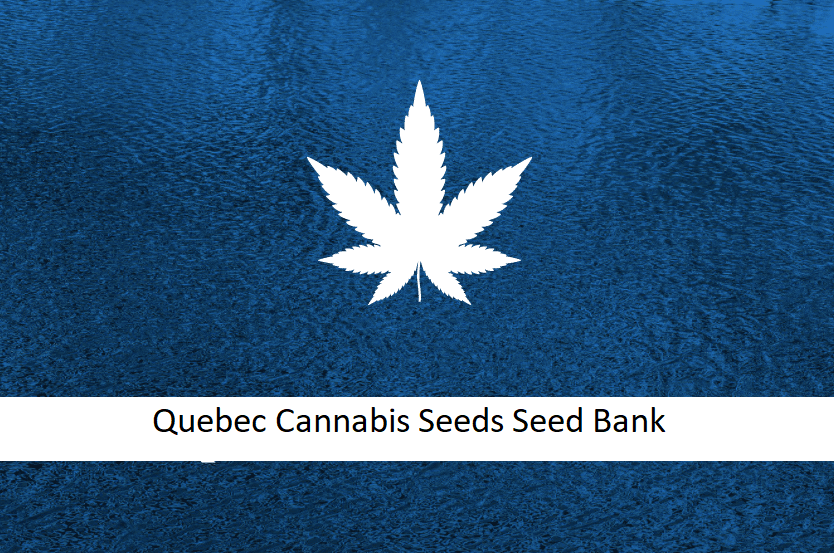 Probably, you must be aware of QCS if you are fond of cannabis strains. The QCS seed bank has a strong reputation in the global seed bank industry.
Let's check the facts why it is worthy to keep Quebec Cannabis seeds among the best Canadian seed bank.
---
Quebec Cannabis Seeds Bank: Reputation
Everyone who directly or indirectly loves marijuana either to consume or grow cannabis, definitely aware of the name and fame of the famous QCS seed bank.
Quebec seed bank is a renowned name in the Cannabis industry. The bank has gained a lot of trust among its buyers. Known for its extensive services for 15 years in the cannabis industry, the QCS seed bank has a heavy fanbase.
You will be amazed to know that Quebec Cannabis seeds are one of the most reliable ones to sell high-quality cannabis seeds for medical or recreational purposes.
Let's know more about it…
---
Quebec Cannabis Seeds Bank: Proud History
Quebec Cannabis Seeds began to rule the cannabis industry in 2013, however, was founded in Montreal, Quebec Canada in 2005.
Though the seed bank is located in Canada, it is thriving the whole world by selling seeds worldwide. The company started breeding cannabis on their own in early times. Thus this way they started gaining popularity all over due to their high-quality cannabis seeds.
Interesting to note, that QCS seed bank mainly focuses on breeding their own cannabis plant for medical and recreational use and their extensive research made Quebec seeds another name of trust as they breed mold and pest-resistant strains.
Seriously, their focus on their client needs has made it to be the top seed bank of Canada.
What an adorable, inspiring journey!
Let us now turn our focus to the website of Quebec cannabis seeds…
---
Quebec Cannabis Seeds: Website Check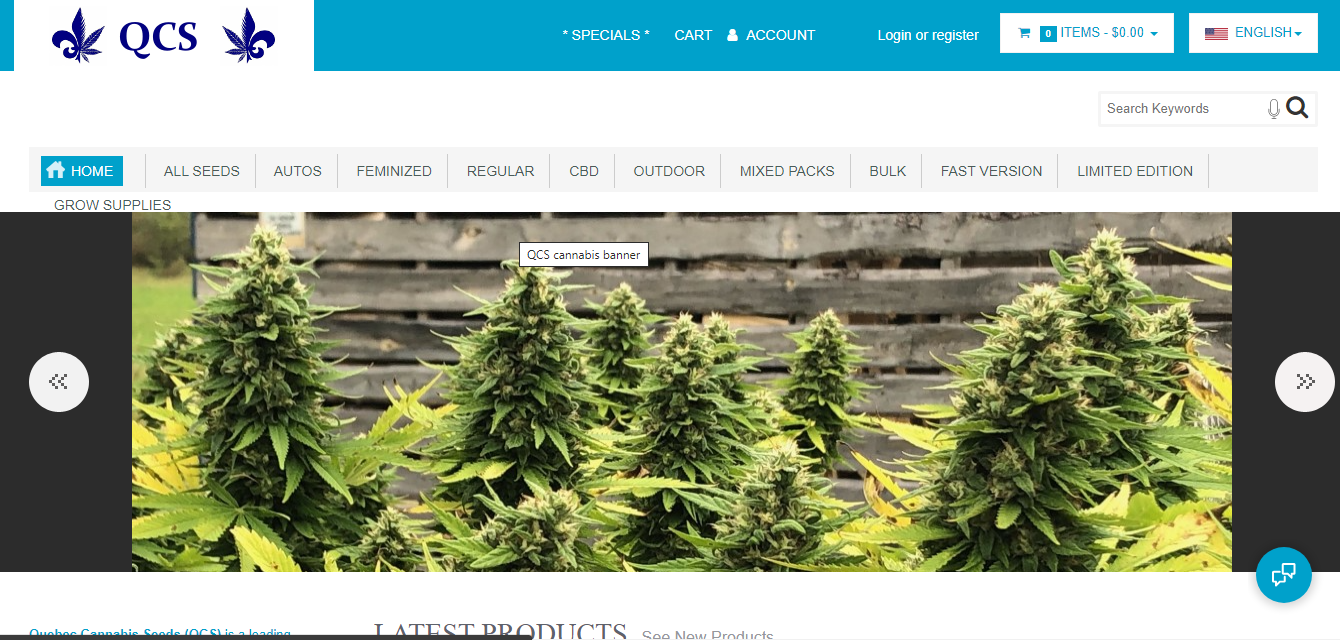 To give you an honest Quebec cannabis seeds review, our research team has examined the website through a broader lens.
At first look, the website seems to be just perfect.
Then What else! Let's check…
Design:
Shortly put, soothing, simple and well-crafted website!
Well, the Quebec Cannabis seed bank website is designed in a soft blue-white colour scheme that is pretty good for our eyes.
Likewise, the website is simple and not messy with all the information necessary for you to know. At the first point after an eye-grabbing banner, there is a series of Latest products, Featured seed and special products.
Again, they have separate pages for regular, autoflowering, feminized seeds, CBD marijuana seeds and Fast version strains.
Needless to mention that their information is just a click away.
Also, their shipping policy and other terms and condition have taken separate pages on the website.
Such smooth navigation!
It's like All the information is just waiting for a click to get unveiled. The most interesting part is that you don't need to look here and there on the webpage.
In fact whatever you need just type in a search box and yes, that is it!
User- Experience:
Definitely, we have tried to put the best Quebec Cannabis seeds review and for that, we left no stone unturned.
As a user, when we entered the website, we found it pretty clean and helpful. Whichever strain you are looking for; you will have complete information from buying to cultivating. Which is absolutely great!
Moreover, a 24/7 chat box is there to keep you moving around the website. You can ask anything and the prompt answer is what you can expect.
Therefore in total, the Quebec cannabis Seeds website is a user-friendly, easy to navigate, and diligently designed one!
---
Quebec Cannabis Seeds: Collection and quality of marijuana seeds
Most importantly, Marijuana seed banks are rated for their seed collection and selection and quality of the seeds.
Similarly, the other point to check the Quebec Cannabis Seeds is their collection.
In the beginning, we have already told you that, unlike most other seed banks, the QCS seed bank has been breeding cannabis seeds on its own since its establishment.
Yet, the company not only sells the locally grown strain but also sells a great number of international strains imported from standard growers as well.
Thus, you will see a distinct collection of high-quality seeds.
Thus the quality of the seed is unquestionable. Explicitly saying, buying cannabis seeds online from such a reliable seed bank is going to bring a lot of joy while growing marijuana.
Promising quality is what you will get by purchasing your herb from the Quebec Seeds!
After quality, if you look at their collection, you will be mesmerized to see the selection of strains.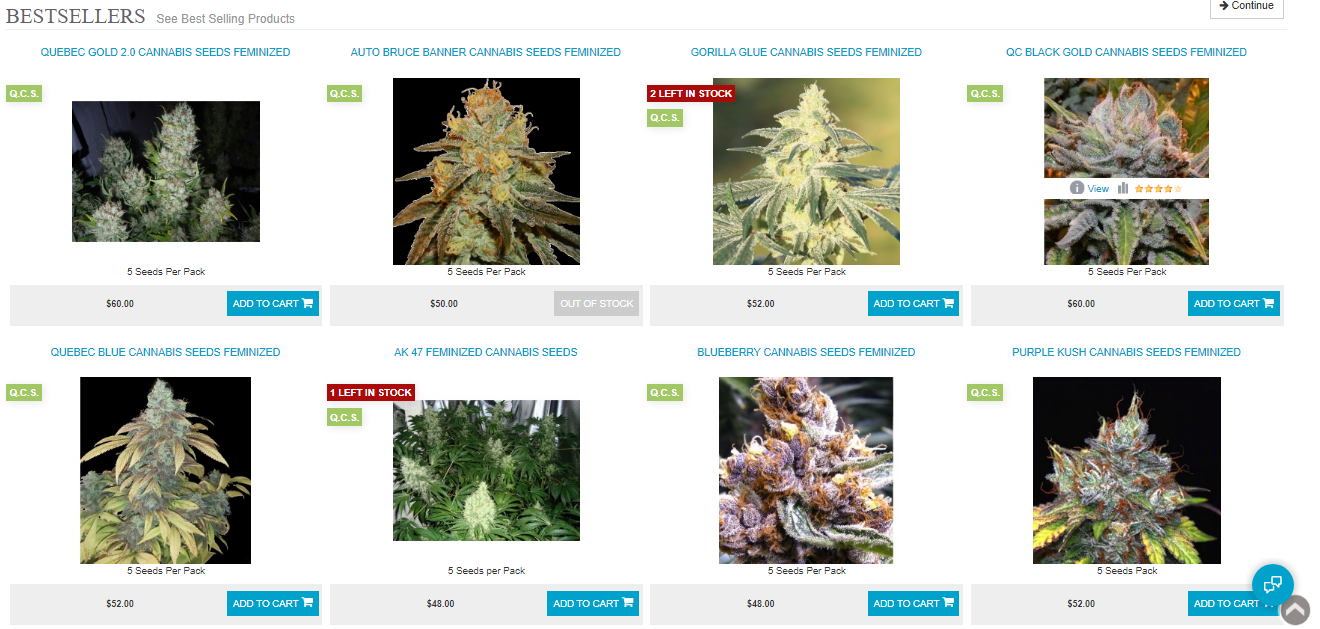 Their seed selection is quite good. Let's tell you about their collection:
Quebec Cannabis Seeds believes in quality and their main aim is to deliver only the best healthy strains for mainly medical use, hence they only have mainly 40 main quality seeds in the collection.
Here, we know that maybe this fact could bring a little disappointment, but your low feeling would fade if you get such great quality healthy seeds!
Feminized Cannabis Seeds:
Golden Skunk, sour diesel cannabis seeds, white widow feminized Quebec purple bud, AK-47 feminized, Atomic cannabis feminized,
Regular Seeds:
Blueberry, OG Kush, Purple Kush,
Auto-flowering Seeds:
Amnesia Haze, Ak -47, Blueberry auto, Bruce banner, Gelato, etc
Despite these, many CBD seeds like Jack Herer CBD, Mango Haze etc are also part of their collections.
Notably, you will find a mix pack collection that includes many top-quality hybrid seeds like Northern Lights, Bomb seeds, etc.
Also, don't miss out on the special seeds and best sellers for getting superior numerous international varieties in their collection.
Overall, An appreciable Marijuana seeds collection!
It's time to move on! Read on…
---
Quebec Cannabis Seeds: Seeds Price
Certainly, pricing is the most compelling thing for any seed bank to rule upon the hearts of clients. And, to keep pace Quebec seeds has made a great move to keep the price lower than any other seed bank.
Surely, what's more, influencing if you buy cannabis seeds online with great quality and price from online cannabis seed banks.
Hey! if you don't believe us, you can try yourself!
---
Quebec Cannabis Seeds: Customer Service
Truly, growing cannabis is not so easy. it takes a lot of money, patience, resentment, confusion at every stage. And for that you need assistance.
Well, by going through the real experience of their Customer services, we find it not at all impressive. And the company has to work hard in this zone to be the king.
What we didn't like about the customer service of the Quebec Cannabis Seeds:
First of all, there is no customer support on weekends i.e. on Saturday and Sunday.
There is not even 24-hours online support like chat and calls.
After the bank is closed you have only one option left and that is to mail them and wait for the answers.
Though customer support is very active during working hours, if you need immediate assistance afterwards then you are clueless!
There is only one contact no. for both local and international buyers. Obviously, it is mostly busy.
On a sincere note, we would like to advise Quebec Cannabis Seeds to improve its customer services!
Wait! the review is not yet over! There is more to know…
It is time to check the germination success…So let's explore!
---
Quebec Cannabis Seeds: Germination Guarantee
Doubtlessly, a germination guarantee is a thing that makes any seed bank more reliable.
And, fortunately, you can purchase marijuana seeds from the Quebec Cannabis Seed bank with an 80% germination guarantee which truly matches with other online seed banks. Most seed banks provide the same germination guarantee.
All the reviews on Trustpilot and other recommended researches have confirmed that if you purchase seeds from QCS seed bank, there is a fair chance of getting all of them to germinate.
Indeed, germination success has confirmed its presence among other Canadian seed banks!
---
Quebec Cannabis Seeds: Payment Methods
Yet another negative side of this popular seed bank. Why we are saying so has the reasons.
Nowadays in a competitive world where many other Canadian seed banks or even international seed banks have many payment options available to attract more clients, there Quebec Cannabis seeds bank only offers limited ways to pay.
Additionally, you can pay via:
Mastercard/ visa Card,
Credit Cards
E-transfers (for Canadians)
Money transfer only
Notable here as money transfer turns out as a very costly way as it needs to turn currencies into Canadian dollars.
It is a little unbelievable that the bank is not taking cryptocurrencies like Bitcoin as most seed banks do.
Still, payment options are suitable enough to choose Quebec seed banks among other Canadian seed banks.
---
Quebec Cannabis Seeds: Packaging and Shipping
The association keeps up with worldwide delivery and can send many seed varieties to every corner around the world.
Let's see what they offer in packaging and shipping:
Notwithstanding, Quebec seeds don't ship for free.
They transport the package in a discreet manner in order to avoid stealing and seizing.
For this reason, the package will come to you with no marijuana-related sign or the company name.
The most important part is that the Quebec seed bank offers the fastest same-day delivery according to the country. Of course, it's not free. You need to pay extra to avail of the service.
As the cannabis act is different in all the countries, Quebec ensures that you receive your parcel by hiding your packet in various different things like garments, stationery, etc.
Again, it might be heartbreaking to know that if your package gets seized, the company doesn't offer any return or refund.
Thence, it is crucial to know your country's rules and regulations before ordering the high-quality seed packs from the Quebec Cannabis Seeds.
---
Quebec Cannabis Seeds: Promotions, Deals and Discounts
Whoa! the most satisfying thing!
Chiefly, the Quebec Cannabis Seeds is the happy place to get your quality seeds from!
Promotions, Deals:
Go to their website and check their weekly sales on Specials, they happily put these strains with 20% heavy discounts.
What else do you want! After all, you are not getting low-quality seeds at a cheap price. Getting high-quality seeds is surely worth buying from here!
And yes, their weekly sale gets refreshed every week so make sure not to miss it!
An affiliate program
is the other aspect where the bank lets the people earn 20% commissions if they promote their name. Even their sub-affiliates can get 5% commissions.
Free Seeds:
Another catching thing is QCS free seeds. Yes, you will receive an extra seed as a free seed. However, if your order is huge then you may get many free seeds. However, the company doesn't take guarantee the free seeds
But still, freebies are always good, isn't it great!
---
Quebec Cannabis Seeds: Customer Reviews
Last but not the least, it is important to check what their real customer says.
On this note, we researched platforms like Trustpilot and found that clients are extremely satisfied with their services.
Here are the reviews of some clients:
Vladimir Tereshchenko at Trustpilot:
"I have purchased from QCSeeds many times and never an issue! They have sent replacements if they didnt sprout without any problems. Great stock of quality seeds, great stealth shipping and prompt customer support, not sure what more a guy could want!My 1st choice for seeds every time!"
Matthew Ralls at Trustpilot:
"I have ordered many times now, without any real problems. I'm grateful for the free seeds I received with my orders. So far Bruce Banner has been the best auto-flowering plant I've ever grown. I look forward to ordering new strains soon. Thank you"
" I am so pleased to see my seeds flowering, not even a single seed disappoints me. Wonderful company. Thank you QCS. I have lost every hope from my past experiences. You made me a grower! Thanks again! Keep up the good work."
Seems that the bank is getting love from all over the world!
---
Quebec Cannabis Seeds: Pros and Cons
Let's take a quick glance at what we've learned in the review so far:
Pros:
Only High-quality cannabis seeds from the healthy cannabis plant.
80% germination guarantee
Reasonable price
Great autoflowering seeds, feminized seed, regular seeds of 40 strains
Maintains THC and CBD levels in all cannabis seeds
Great deals and promotions up to 20%
Stealth shipping
Discreet Packaging
Affiliate program
Cons:
Week customer service
No round the clock support
Fewer payment methods
No free shipping
No refund and return policy
Now is the time to answer all the frequently asked questions.
---
Frequently Asked Questions of Quebec Cannabis Seeds
Q1. How much time do the Quebec Cannabis seeds seed bank take to deliver all over?
Ans- For Canada- 5-7 days usually. Sometimes 9 days
For the USA: 2 weeks
Other countries: 2 to 3 weeks
Q2. Is Quebec Cannabis Seeds a legit seed bank?
Ans- Yes, it is a legit seed bank. Since Canada legalize Cannabis, The bank ensures to live up to the rules and regulations while selling cannabis seeds in Canada or worldwide.
Q3. How can we contact Quebec seeds bank on weekends?
Ans: Well only through the mail on weekends. But usually, on the working days, you can chat, call or mail us.
Q4. Where the bank is located?
Ans: In Montreal, Canada
Q5. Do they have all the varieties of strains?
Ans; As of now they are breeding and selling around 40 plus strains. You can go to their website and check whichever you want.
Q6. What are the other Canadian seed banks to rely upon?
Ans: You can try Crop King seeds and BC bud Cannabis seeds banks. Check out our curated list of the best Canadian banks for buying seeds online.
---
Final thoughts on the Quebec Cannabis Seeds
Lastly, from the whole perspective, we can say that buying your cannabis seeds from Quebec is indeed a smart choice.
Everything has a proper share of positives and negatives and so does the Quebec Seed bank too. In the light of all the aspects, experts advice and our personal experience, we have put the most reliable review for you.
We all customers and growers always look for a reputable seed bank to buy marijuana in a genuine way and we admit that Quebec Cannabis Seeds is a wonderful choice than any other seed bank.
Considerably, they are regularly making themselves competitive in the market and updating their services as well. Hopefully, they would seriously take our advice to work on their customer services and the other loopholes.
What's make us fall for the bank is that they seriously take the cannabis law and follow everything accordingly. Genuinely, they request their buyer to go through their countries laws of marijuana and then place the order.
Thus, you can order from the Quebec seed bank without having a fear of wasting money. Believe us you will get worth for every penny spent.
Undeniably superior quality seeds, low cost, top-notch delivery and packaging, high germination rate make them worthy to have our best choice overall.
Worthy to be recommended!